Game Description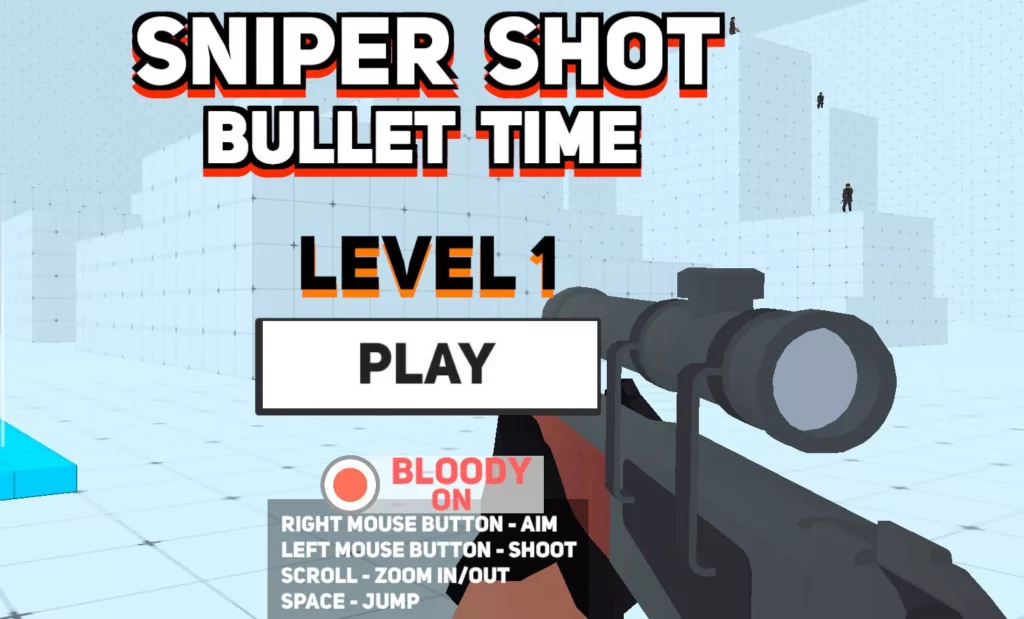 "Sniper Shot: Bullet Time" offers an immersive sniper experience, plunging players into challenging scenarios where precision and timing are paramount. Set across diverse landscapes, this game demands accuracy and strategic thinking in each sniper mission.
Game Controls
Aim: Drag the screen or Mouse movement
Zoom In/Out: Pinch or Scroll wheel
Shoot: Tap or Left-click
Reload: Reload button or R key
Bullet Time (Focus Mode): Activated through specific in-game mechanics
How to Play Sniper Shot: Bullet Time
Precision Sniping: Engage in long-range shooting, requiring careful aim and precise timing to eliminate targets effectively.
Utilize Bullet Time: Trigger Bullet Time strategically to slow down time, facilitating critical shots or handling challenging situations.
Mission Objectives: Accomplish diverse missions such as assassination, protection, or strategic eliminations, showcasing sniper expertise.
Tips and Tricks
Master Precision: Take time to aim accurately, ensuring critical shots for mission success, especially in complex scenarios.
Tactical Bullet Time: Strategically use Bullet Time to manage multiple targets or execute precise shots in high-pressure situations.
Mission Planning: Assess the mission landscape, prioritize targets, and plan a methodical approach for optimal outcomes.
Upgrade Arsenal: Enhance sniper capabilities by upgrading weapons and gear, customizing gameplay to suit personal style.
Game Developer
"Sniper Shot: Bullet Time" is crafted by developers dedicated to delivering immersive and challenging sniper gaming experiences.
Game Platforms
Accessible on various platforms:
How to Play Unblocked
Official Sources: Download the game from authorized app stores or the developer's website.
VPN Solutions: Use reputable VPN services to bypass network restrictions and access the game seamlessly.
Proxy Servers: Navigate around network blocks using proxy servers for uninterrupted gameplay.
"Sniper Shot: Bullet Time" invites players to test their sniper skills in challenging missions, emphasizing precision and strategic use of Bullet Time to achieve success.